UHY Study: Poland's import costs lower than key rivals, shows new research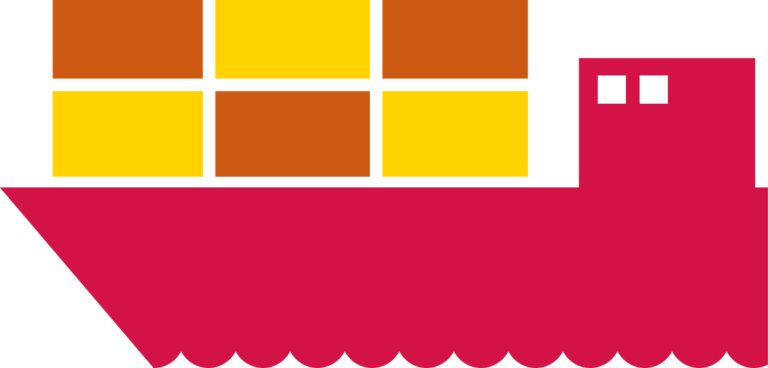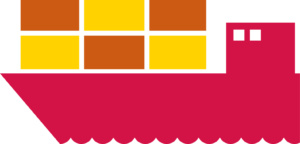 Polish businesses and consumers paid just 0.4% in import duties last year
G8 countries' cost of customs duties rises to $103bn – even ahead of 'trade wars'
Poland benefits from lower import costs than a host of rival economies, with Polish businesses and consumers paying just 0.4% in duties on their $265 billion in imports in 2017* shows a new study by UHY, the international accounting and consultancy network.
Poland's level of import duties is far lower than those of economies such as Spain and Italy, and below the median of 1.1% of the value of imports in the countries studied by UHY.
UHY studied 20 countries around the world, calculating the value of their imports and the cost of duties on those goods and services (see chart below). Businesses and consumers in Poland paid $840 million in 2017*.
Poland has been a major beneficiary of the European Union's low import costs, allowing businesses to import goods at low cost for sale or manufacturing. Within the European Union Custom Union, no customs duties are imposed on goods travelling between Member States. Only goods and services from countries outside the EU are charged import tariffs.
Low tariffs benefit consumers and encourage businesses to focus on areas where they have a genuine competitive advantage. Major imports in Poland include cars and pharmaceuticals.
However, rising import duties outside the EU could affect Poland's major exports, including automotive parts and consumer electronics. There is also a possibility that the UK, the second-largest destination for Polish exports, could increase its import tariffs in future once it leaves in the European Union.
The cost of customs duties in G8 countries was $103 billion in 2017/18, even ahead of the global 'trade wars'. The G8 countries' import duties now amount to 1.24% of their approximately $8.3 trillion in annual imports.
There is potential for the cost of tariffs to rise even further in the coming years due to the effects of global trade wars. In 2018, the United States introduced tariffs on a range of imported goods including steel, aluminium, washing machines, solar panels, and 818 categories of goods from China.
UHY's research shows that the biggest rise in the revenue from duties among major economies was seen in China, which registered a 26% increase from $37.8 billion in 2017 to $47.7 billion in 2018**. China is one of the countries that levied retaliatory tariffs on US imports in mid-2018. However, the two countries agreed to postpone planned mutual increases in tariffs from 10% to 25% following talks in December.
US duties cost increased by 6.7% from $62.3 billion in 2017 to $66.5 billion in 2018. On several occasions, President Donald Trump has raised the prospect of the 'Trump Tariffs' policy being extended further. This could affect US car manufacturers who build vehicles in Mexico, as well as European carmakers.
Piotr Woźniak, Managing Partner at UHY ECA in Poland, says: "Over recent decades, the Polish economy has benefitted greatly from the low import costs that come along with EU membership."
"With rising tensions around global trade in the last two years, it is important that Polish businesses are helped to remain competitive by tariffs in the European trading bloc staying low."
Rick David, Chairman of UHY, comments: "In an increasingly globalised economy, a trade war could affect both businesses and consumers."
"If trade disputes cannot be resolved by negotiation and result in substantially increased tariffs, there could be an impact not only on the cost of goods, but also economic growth and employment."
The biggest rise in the cost of duties among major economies was seen in China, which registered a 26% increase from $37.8 billion in 2017 to $47.7 billion in 2018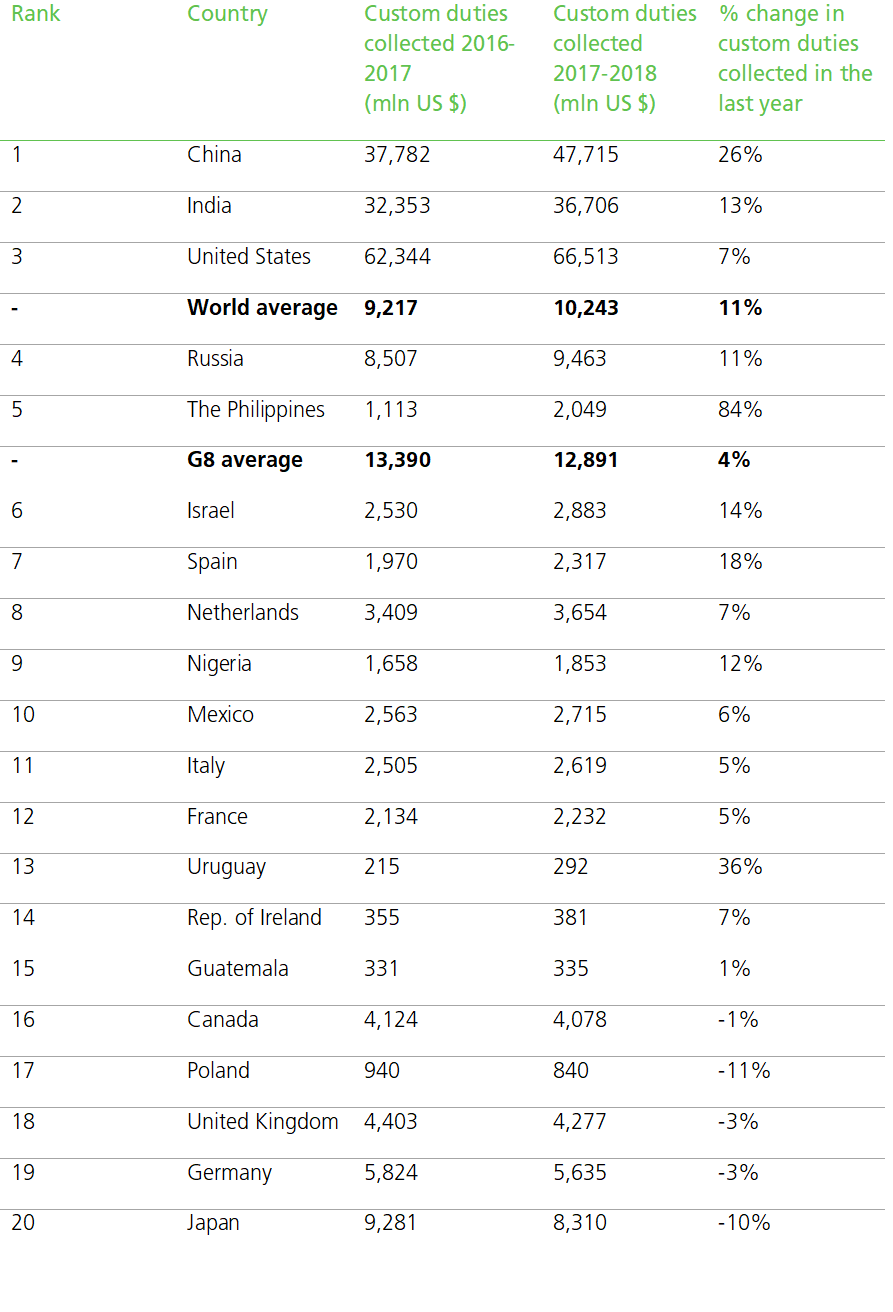 The biggest rise in the value of imported goods among developed countries was seen in Russia, which registered a 23% increase from $266 billion in 2016 to $326 billion in 2017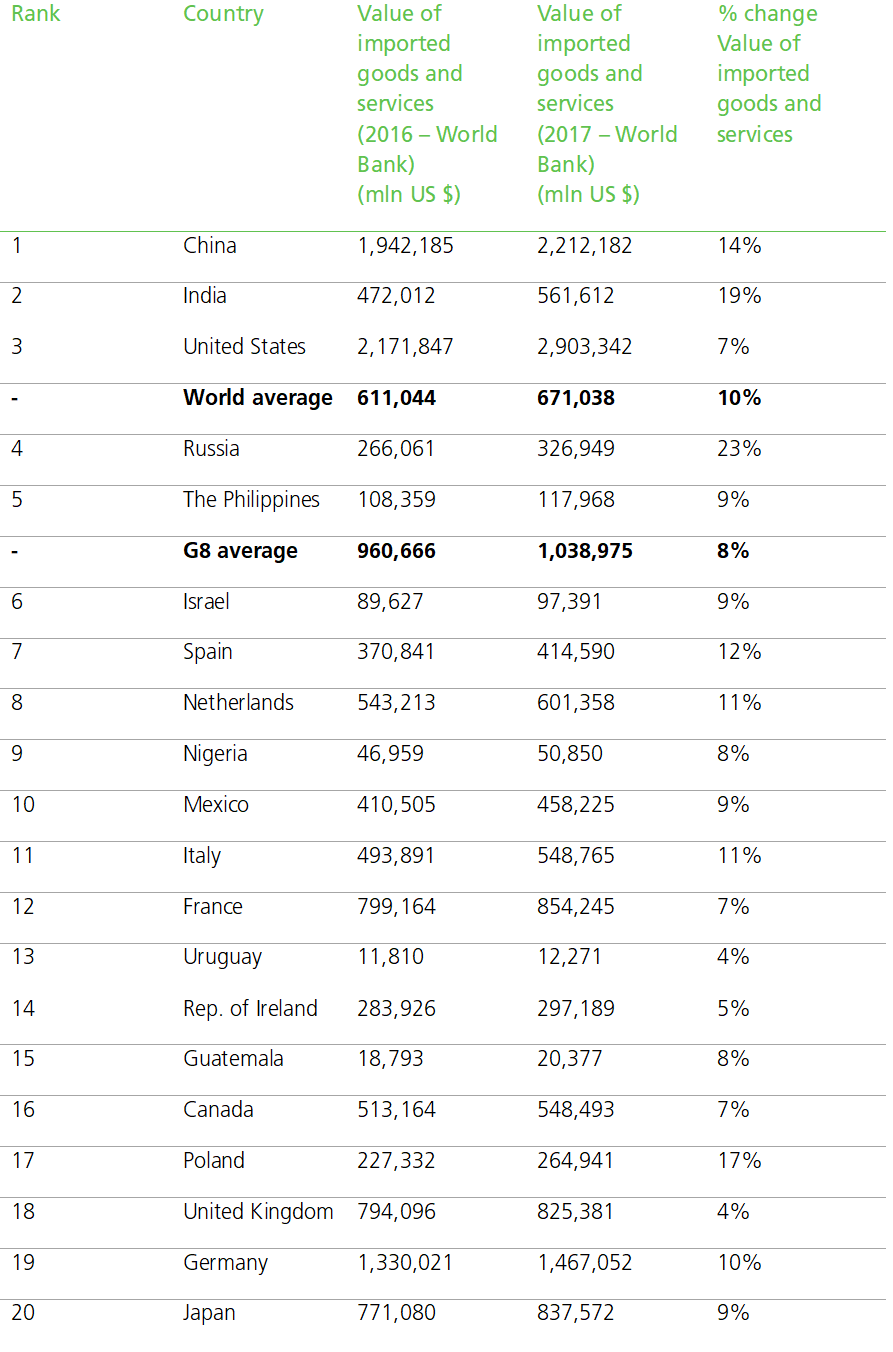 *Polish Ministry of Finance, Year ended December 31
**The Office of the United States Trade Representative (USTR), 2018
*** Bloomberg, 2018
UHY global press contact: Dominique Maeremans on +44 20 7767 2621
Email: d.maeremans@uhy.com – www.uhy.com

Nick Mattison or Peter Kurilecz
Mattison Public Relations
+44 20 7645 3636, +44 7860 657 540 or email peter.kurilecz@mattison.co.uk